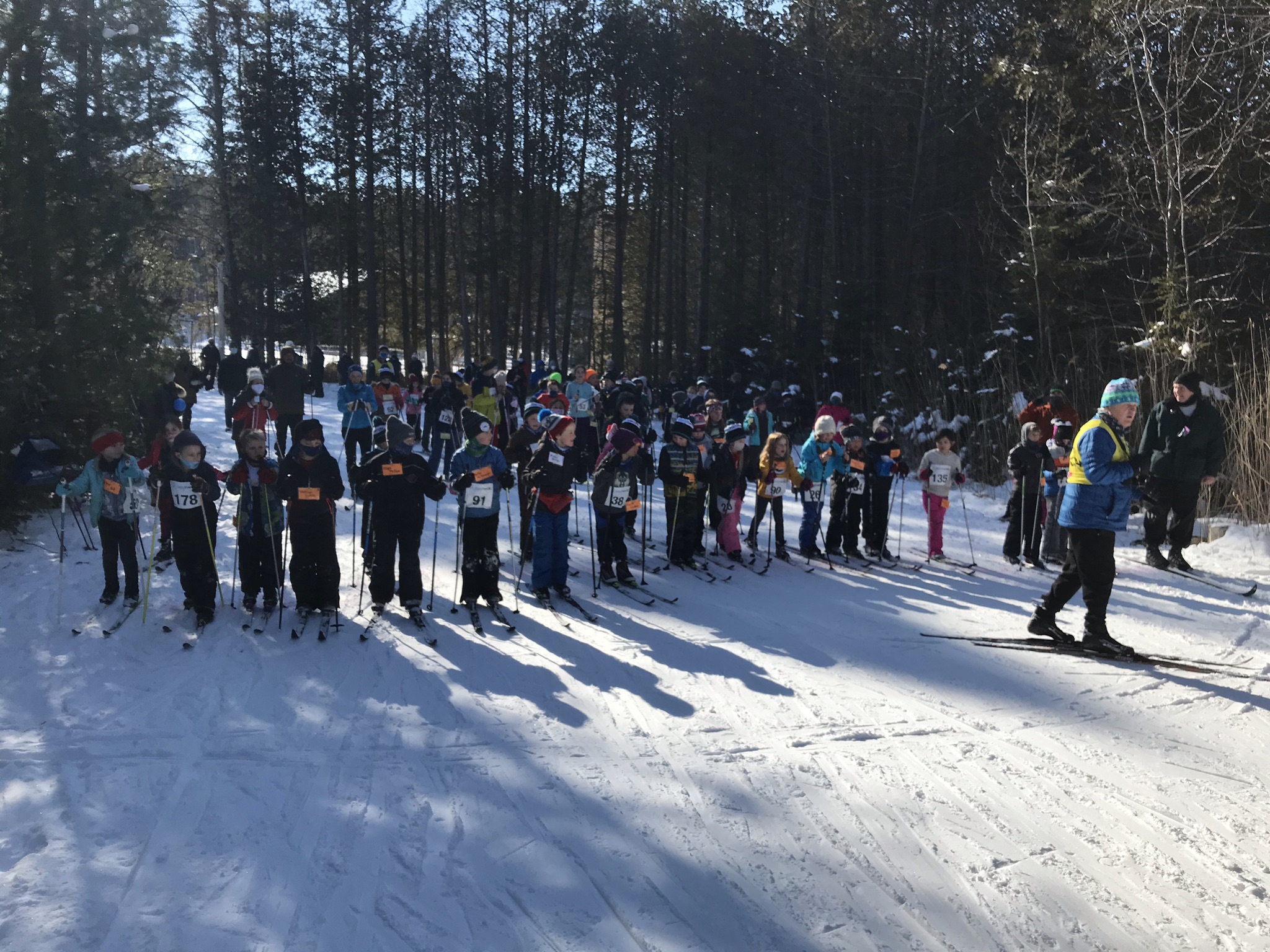 OUR YOUTH PROGRAM (2023-2024)
Our successful youth program supports kids from 3 to 12 year olds. This program introduces the youth to the joy of winter with Nordic skiing, also known as Cross Country Skiing. Kids will meet for 6 to 7 Saturday or Sunday sessions at a Green Bay area Nordic Ski trail system (typically the Reforestation Camp) and will be split up into smaller groups according to their age and ability. Rental equipment is available to participants in the program at an additional cost.
2023-24 Youth Program Schedule
10/15/2023 – Online Registration Opens
11/15/2023 – Online Registration Closes at noon
12/2/2023 – Equipment Rental Pickup – 9:00am-12:00pm
Pete's Garage (142 N Broadway, Green Bay, WI 54303)
Equipment is available to those who register first
12/9/2023 – 10am to 12pm – Session 1 (Dryland- Optional skiing if there is enough snow)
1/6/2024 – 10am to 12pm – Session 2
1/13/2024 – 10am to 12pm – Session 3
1/20/2024 – 10am to 12pm – Session 4
2/3/2024 – 10am to 12pm – Session 5
2/10/2024 – 10am to 12pm – Session 6 (Team Potluck after skiing)
2/17/2024 – 10am to 12pm – Session 7, Stump Farm Race. Registration is included with program fees.
Rental Drop off/ Return – Time/date to be determined and posted at a later day at Pete's Garage (142 N Broadway, Green Bay, WI 54303)
*Schedule is subject to change
The Youth Program is designed for kids between 3-12 years old (Parents are required to accompany all 3 and 4 year olds).  During the last ski seasons we had over 220 kids participating in our program!  What is Included?
A total of 7 sessions (weather dependent!) are scheduled per ski season. All sessions are held during the weekend at the Brown County Reforestation Camp cross country or Neshota County Park ski trails. The sessions are scheduled for approximately 2 hours each.

Skiers are divided into small groups with curriculum for each level that consists of ski games and drills that will allow the skier to progressively develop the skill sets necessary to enjoy skiing. Ski groups are taught by volunteer adults and junior skiers.

Emphasis for beginners begins with the classic technique. Skating is offered for older (>~ 8 years old), experienced skiers as they progress with their skills.

Each new member receives a Bay Nordic apparel such as a hat or neck gator.

Our rental program for youths provides top equipment. Classic skis are "waxless" for ease of use. Skate-specific are also available through our rental program. Rental availability is on a first come basis based on receiving registration.
Introduction to Racing Program (IRP)
The schedule above is great for introducing kids to Nordic Skiing, but some kids want more and may have aspirations for competing.  For them we are offering the Introduction to Racing Program (IRP).  In this program your child will receive additional instructional opportunities from a certified coach and many more potential race starts.  This program is intended for kids that are 8 and older, have a couple years of classic skiing experience, and are signed up for the skate group this winter.  It is ideal for returning skaters (two or more years in Polar Bear group, but not required).
Fall Programming
For those who are interested, weekly rollerskiing sessions on Sunday afternoons are available.  This year, these sessions start on September 17, but skiers can start at any time their schedule allows.  As formal signup is later in the fall, interested families should contact the Bay Nordic Youth email (baynordicyouth@gmail.com) to receive information about these events and receive the appropriate equipment in advance.  There is no additional fee for the fall sessions.
Winter Programming
Winter practice dates are listed below and the supported races include: Snekkevik (Wausau), Badger State Games (Wausau),  Iola , Snow Cat Series (Green Bay), Junior Birkie (Hayward – race fees not included), and The Stump Farm Race (Green Bay).  Some years there are competitions in Lakewood or Greenbush.  Availability of races is based upon snow and other factors.  Typically, these races are also attended by the Bay Nordic Middle School teams.
This program will be available at an additional cost of $75.00.  Sessions will be held on Wednesday and Thursday nights from 6 PM to 8 PM under the lights of the Reforestation Camp and lead by a Level 100 US Ski Team Certified Coach.
IRP Session Dates 2023-2024 dates:
12/13/2023; 12/14/2023
12/20/2023; 12/21/2023
1/3/2023; 1/4/2023
1/10/2024; 1/11/2024
1/17/2024; 1/18/2024
1/24/2024; 1/25/2024
1/31/2024; 2/1/2024
2/7/2024; 2/8/2024
2/14/2024; 2/15/2024
2/21/2023 (May be adjusted due to Birkie events this week)
2/28/2024; 2/29/2024
*If there is snow available additional sessions may be added in December or in March.
Youth Program Location:
All events will be held at the Brown County Reforestation Camp or Neshota Park (http://www.co.brown.wi.us).
Reforestation Camp Address: 4418 Reforestation Road, Green Bay WI 54313
Neshota Park Address: Park Road, 5757 Park Entrance Rd, Denmark, WI 54208
Youth Membership Fees:
Membership is $50 per skier. Includes Bay Nordic hats for all first year members!
Intro to Racing Program is an additional $75 per skier.
Note: Membership does not include trail fees administered by the Brown County Parks Department. However, Kids 12 & Under do not require a trail pass. Adult (parent skiers) are required to purchase daily or annual trail passes if skiing with participants.
Scholarships/Discounts:
Scholarships are available upon request. Email baynordicyouth@gmail.com to request more information. Families who have three or more skiers qualify for a family discount. Use the discount code: BNFAMILY3 during registration checkout to receive a 15% discount.
Equipment Rental:
Equipment rental is only available to members and for the entire ski season. We do not rent out equipment for daily usage, to non-members or to adults.
EQUIPMENT RENTAL PRIORITY WILL BE GIVEN TO MEMBERS AS THEY REGISTER. WE HAVE A FINITE NUMBER OF SKI PACKAGES AND SIZES. WE WILL PROVIDE NOTIFICATION ON OUR WEBSITE ONCE ALL EQUIPMENT IS GONE OR NOTIFY YOU IF WE ARE UNABLE TO PROVIDE THE CORRECT SIZE.
The club offers both "Classic" and "Skate" ski packages to members for rental. The rental packages include skis, boots, and poles and are the top quality equipment available for kids. "Classic" skis are waxless design (grip wax is not applied to the kick zone) and built to provide easy kick and glide. All beginner skiers should be in the classic package. The "Skate" package is for older, experienced kids who prefer the skate technique.
Seasonal Rental Fee
Classic Package $75 plus $30 refundable deposit ($105 total).
Skate Package $75 plus $30 refundable deposit ($105 total).
Equipment Pick-Up & Drop off
see the schedule for details above
Coaching and Volunteers -We Need Your Time & Talent
All levels of Volunteers (no requirement for skiing experience) and Coaches are needed. This program cannot operate without all the support from the volunteers. We will need help with putting on equipment, bathroom breaks, warming hut chaperone, refreshments, etc. Building a supporting coaching program is key to sustaining the program for the future. Please consider coaching….each group includes one Head Coach and 2-3 Assistants. No experience is needed to begin as an assistant coach. All coaches, assistants and floaters will be required to have a background check which will be paid for and provided by Bay Nordic.
Head Coaches: Set curriculum and direct organization of groups at beginning. Communicate to Assistants. Suggested curriculum and coaching videos are provided to coaches.
Assistant Head Coaches: Serve as head coach after group split.
Assistants: Stay with groups and help out as needed. Assist head coaches in curriculum. Encourage kids.
Floaters: Help out where needed! Pick up slower kids, bring kids to groups, warm hands, and help with equipment, bring kids back, etc.
Weather, Snow Conditions, and Cancellation Policy:
We will be following the general guidelines below when deciding whether to cancel due to cold weather. Ultimately it is up to the parents.
<0 deg F pure temperature or with the wind chill we will cancel.
0 to 10 deg F, we will limit the session to approximately 1 hour (maybe shorter for the little ones depending on how they respond). We will keep the kids close to the lodge and have "floaters" take kids back to the lodge if needed.
Road Conditions: sessions and practices will be cancelled if our coaches and leaders feel travel is unsafe.
Sessions will also be cancelled if Brown County has closed the trails due to lack of snow. The December event will be either on snow or "dryland" depending on conditions.
Makeup dates are not scheduled in the event of cancellation.
Cookie/Hot Chocolate (Refreshments)
Cookies, hot chocolate or refreshments will be provided at the conclusion of each session. It is the option of participants to partake in this portion of each session, but is a great motivator for most kids and very nice way to meet other Bay Nordic skiers and families.
Pot Luck
The pot luck is scheduled for February 10, 2024. Bay Nordic supplies meat (burgers/hot dogs and buns). There will be a sign up to bring dishes to share. Additional requests for volunteer help with grilling and organizing food will be requested closer to the event.
Race Event
The race event is scheduled during the last session of the season. This event is available for all Bay Nordic Youth skiers. The race length is tailored for each skill/age group. All participating skiers are awarded a finishing metal. This is a nontimed event for all skiers, but a great way to showcase some friendly competition and overall improvement throughout the season. Families are encouraged to come and cheer skiers start and finish or throughout the race course if they are on skis.
Contact Information
Program Director – Natasha Gwidt (baynordicyouth@gmail.com)
Youth Head Coaches – Nathan Jackson and Heidi Jackson
IRP Coach – Brian Knapp