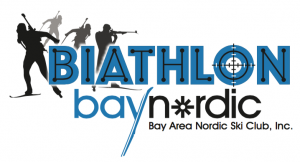 The Bay Nordic Program
Bay Nordic building on the success of Project Illumination Phase I, Phase II is on target with another new addition to its programming – Biathlon. As part of Bay Nordic's vision to make N.E.W. a desirable year-round community by promoting an active lifestyle through Nordic skiing for all age groups, the Biathlon fits in perfectly, winter and summer.
The Bay Nordic Biathlon program is evolving as interest grows. As a ski club we are encouraging adults, and youth ages 12 and above to consider Biathlon as a year-around activity. We are developing activities to include running, mountain biking, skiing, and various combinations.
Our Biathlon range is located at the Brown County Rifle Range, which is directly adjacent to the Oaks ski trail at the Reforestation Camp. Access to the range directly is off of the Brown Road exit on I-41. Turn left at the exit and proceed for one mile where the road curves sharply to the right. At this curve make a sharp left and you will see a dirt road and a gate. Proceed through the gate and follow this to the parking area of the rifle range. If you are interested please contact Brian Gustin at blg.gustin@gmail.com.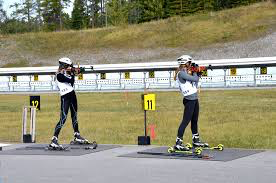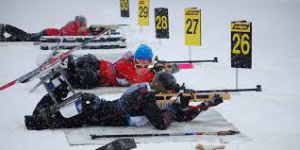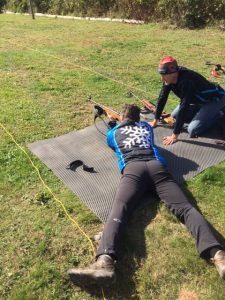 What is Biathlon
Biathlon is the combination of cross country skiing and target shooting. Pictographs of Scandinavian hunters on skis have been dated back to 2000 BC. The first biathlon competition was recorded at the Sweden – Norwegian border in 1776. The Biathlon became an Olympic event for the 1924 Olympics in Chamonix, France. In 1978 the .22 caliber rifle became the official Biathlon rifle and Wisconsin held its first Biathlon event in 2009.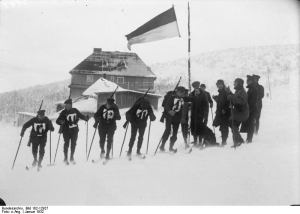 Today Biathlon is well organized internationally and nationally. The Bay Nordic Biathlon  is a member of the US Biathlon Association and follows its safety and competition rules.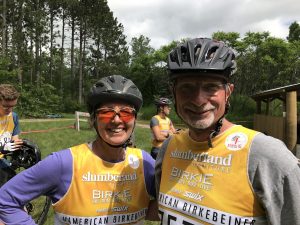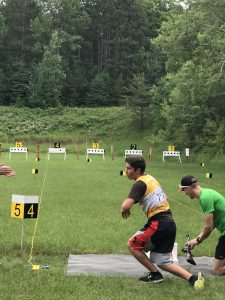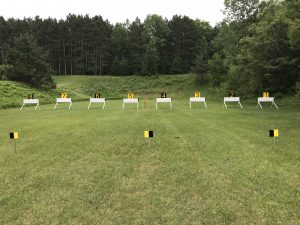 Practice Schedule
Practices are scheduled for Wednesday's beginning promptly at 5:00 PM and Sunday's at 1:00 PM. Participants are encouraged to bring poles (skis when there is snow).
Cost will be $20 per session, which includes instruction, range fees, ammo, use
of club rifles, paper and competition targets, and related equipment. Even though
we started regular practices on October 4 th , we are still getting inquires about
participating. If you want to come and find out what Biathlon is all about, please
feel free to contact Brian Gustin at blg.gustin@gmail.com or 920-737- 5462.
General topics for new participants are below:
Section 1 Gun Safety / Marksmanship
Lesson 1 Introduction to Shooting Sports, Firearms Range Rules and Gun
Handling
Lesson 2 Dominant Eye, Sight Alignment and Marksmanship Techniques
Lesson 3 Shooting from the Prone Position with novice blocks
Lesson 4 Sight Adjustment, Zeroing
Section 2 Adaption to Biathlon shooting
Lesson 5 Prone Position with sling
Lesson 6 Standing Position
Lesson 7 Breath Control, shooting cadence
Many of these topics can be compressed into a few sessions, however a handout
will be provided for independent reading.
Biathlon Committee
Brian Gustin (Chairman)
Jeff Hahn
Gary Kozloski
Gregg Pattison
Jon Bartol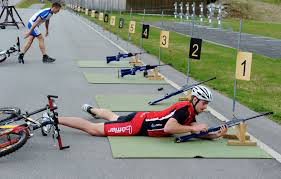 Race Registration
Trail Run / Mountain Bike Biathlon
Bay Nordic Ski Club
"NoSno" Biathlon Event
Sunday Aug 2, 2020
Location
Brown County Rifle Range & Reforestation Camp Trail System 2227 Brown Road, Suamico, WI
Events
YOUTH/NOVICE  – YOUTH AGE 12 THRU 15 – $15 – 6K MTB (2K X 3 LAPS) OR 3.6K RUN (1.2K x 3 LAPS)
NOVICE/EXPERIENCED ADULT BIATHLETES – AGE 16 & UP – $25
10K MTB (2K X 5 LAPS) OR 6K RUN (1.5K X 5 LAPS)
Novice events will shoot all prone, Experienced Biathletes will shoot PPSS
Start Times
(Start times and format may change depending on number of entrants)
9:30 AM – 10:00 AM – Check-In and Course/Range Instruction 
10:00 AM – 11:00 AM – Sighting-in and Practice

11:00 AM – Event Start 
12:00 PM – Post Event Fun. Team Up Short Relays/Shooting Competition
IMPORTANT:
Bring exact cash or check for payment to event.
If you require USBA "Membership For a Day" for this event, please bring the filled out USBA membership form on race day. Copy of USBA form and waiver will be provided in registration confirmation email.
VENUE, REGISTRATION AND ENTRY FEES:
Event registration is online and very simple.  There is a monetary penalty for same day registration so PLEASE PRE-REGISTER ONLINE at the appropriate link below (Open Race or Novice Race) at least two days prior to the race.  No fees are collected during online registration so there is no penalty for registering online and being a no-show.  See fee schedule below and online. 
Note registration will close at 8:00 PM on the day prior to the race.  
For the bib assignment, please bring:
Online registration printout (email to yourself by scrolling down after "Submitting" your online registration)

Exact cash or check payment (to "Bay Nordic Ski Club", see fee schedule below)

USBA Red Book (received at your USBA safety training class) (Open Racers Only)

USBA Membership Card (if you are a Competitor member of USBA), OR 

Filled out

 USBA "member for a day" form (online at USBA web site below) (all Novice Racers)
Note: There is no running water at the rifle range so bring your own water supply. There is a Port-A-John located in the parking lot however. 
FEE SCHEDULE:
$15 – Youth/Novice (non-Red Book Certified)

$ 25 – Adult Novice/Adult Experienced Biathlete
ADDITIONAL $10 if you choose not to register on this site and register in person on race day
$10 if you do not have an annual USBA Competitor membership (this is the USBA "Member For a Day" rate and goes directly to the USBA)
ADDITIONAL $5 trail fee for Brown Co (waived if you have an annual pass)
A "Competitor" level annual USBA membership or USBA "member for a day" (Download here) is required to cover race liability insurance.
Race Schedule
See the registration tab for the last (impromptu) race of the season!