Thank you to everyone involved with Bay Nordic this year! We started as a youth program just a few years ago and made the jump this year to expand programs for the Green Bay area. Thanks especially to all the coaches and our team manager who worked together in a great collaborative way to organize and conduct the training for all the programs this season. The Green Bay Nordic Community is alive and well!  Our goal is to provide the organizational support to grow the sport by improving the skiing trails and infrastructure. Our core programs include our youth group, middle and high school skiers, masters, and community outreach.
2013-14 Successes
Our Bay Nordic Youth group this year had over 150 kids ages 3 to 12 register and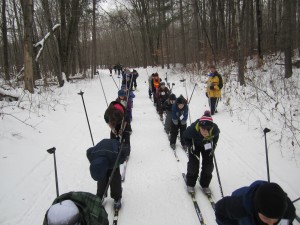 participate.  Over 100 rental sets of skis, boot and poles went out for these kids.  A whopping 55 coaches, assistant coaches and floaters worked together to make the year an overwhelming success. We also had dedicated volunteers at the check-in/out table and in the warming hut along with wonderful families donating tasty treats each session! Although we had one of the coldest winters in a long time, we were able to hold all six sessions! Click here for photos.
Our brand new Junior MS/HS Race Team attracted 38 middle and high school athletes, far surpassing our initial hopeful estimate of 25 skiers. Fund raising events and donations helped us purchase uniforms, boots, poles, roller skis, classic skis, and skate skis needed to meet the demand. It was great to see some of our past youth members move on to the MS/HS team. Our team consisted of athletes new to skiing as well as experienced racers who brought home some great results:
22 skiers competed in over 90 races
Trophies and medals were earned
Over 14 skiers surpassed the cumulative 50k end of year challenge
2 head coaches and 8+ assistant coaches contributed their time and expertise
Parents were deeply involved throughout the season
Definition: A SUCCESSFUL YEAR!!!
Like our Facebook page www.facebook.com/baynordic to see more photos.  <Click here to read the Coach's Blog of successes and plans>
Local Master skiers are key to Bay Nordic's success including program coordinators and coaching the youth & junior programs. A few new Master's events included Wednesday Night Races and Yoga & Ski. The Stump Farm Ski Race returned in February under Bay Nordic leadership. Kudos to our rookie Race Director- Dave Hess! Click here for the Stump Farm race results.
Our Partnership with Brown County Parks & Recreation began this year with usage of the Pines building for our Junior Team and Yoga & Ski. This year's Christmas Eve event was a huge success with family members of all ages taking part in the ski and hot chocolate event in the Pines Building and out on the trails.
We look forward to expanding our "Friends Agreement" with the County as our club begins to grow. We also enjoyed some press on the local news as Channel 5 and Fox 11 both featured Bay Nordic during their morning news casts.
Next Year and Beyond
The board and dedicated volunteers are hitting the ground running for next year. We feel way ahead of schedule already! We will continue to call on our Nordic community to help grow Bay Nordic and provide the opportunities available in other ski communities. Our immediate goals for next year include:
Installing 3 to 4 KM of lighting at the Reforestation Camp trails. To obtain this goal we will need to obtain financial support, perform project planning, and continue to develop the partnership with Brown County.
Expand programming for 9 to 12 year olds and/or 5th Graders. We would like to keep our Youth kids skiing through middle and high school. We feel we can help accomplish this through adding a weekday session to bridge the gap between to the MS/HS program. Coaches & Trail Lighting needed!
Enhancing the MS/HS Race Program – Summer camps are being scheduled and a fleet of race skis are already on the way. <Click Here to read about the Race team Successes and plans for the new year>
Coaching Clinics – Planning for youth and MS/HS coaches. Look for announcements as plans are finalized.
Adult Program (Masters) – Planning a roller ski summer clinic and adding to the programs already in place. Next year we will be looking to organize events and outings for Adult program members to pursue outings to emphasize ski touring and group fun, such as candlelight skiing at venues like Camp U-Nah-Li-Ya, Wolverine Village or ABR trails.
Long term strategic planning for the Nordic Community – Let us know how you want to see your ski community grow and how you want to help.  See the form below!
Immediate Needs for Next Year
We need help for next year! Please let us know ASAP your level of interest. Simply email us at baynordicski@gmail.com
Youth Group Program Coordinator(s) – After 5 years of running the program, the core group is moving on to help with the MS and HS programs. The structure is in place….we need someone passionate about the program to help keep it going!
Youth Coaches – Please consider coaching in our Youth Program. A great way to be exposed to coaching and ignite a love for skiing for kids of all ages. We will be holding clinics for all inexperienced and experienced coaches.
"Tweener" Program Coordinator & Coaches – We really want to offer additional programming for our older Youth group kids that want to ski more. We need help though!
MS/HS Coaches – Help appreciated anytime. Watch for coaches clinics.
MS/HS Team Manager– Catherine Egelhoff will assist in the transition.  Please see Catherine's write-up of this important role.  < Click Here>
Adventure Program Coordinator – We struggled with the adventure program this year. To establish the program we need a Coordinator committed to the program.
Adult/Master Team Leaders – Any ideas for coordinating activities for adults or masters? If you are willing to lead, we will support.
Fund Raising – We are a 100% nonprofit organization (501c-3) dedicated to enriching our members by offering training and skiing experiences. We are committed to helping build better ski trails and improving the health and wellness of our community. Our fund raising efforts will be dedicated to this cause.