Thanks to all who attended our 2019 event!
18 club members enjoyed a long weekend last January at Afterglow Resort in Phelps, WI.  Great trails, plenty of outdoor activities provided by Afterglow including tubing, snow showing (snowshoes available to borrow) Ice skating (ice skates available to borrow), Hot cider around the campfire and lots of great companionship.
Afterglow Resort in Phelps Wisconsin offers many winter activities: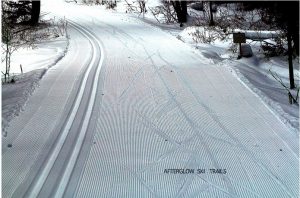 Skate and classic cross country skiing on meticulously groomed trails
Snowshoeing
Ice skating — including lighted night skating
Snow tubing
Snow Biking
Bay Nordic has again reserved 3 cabins to accommodate up to 17 people. We are planning group pot luck meals.
Trip Details
Note that Afterglow has a 3 day minimum stay.
Dates: January 9th, 10th, 11th, 2020
Cost: To be determined for the 2020 trip
Registration: Email roberta.kozloski@sbcglogal.net for info on availability of space.

The following 3 cabins were reserved in 2019 with space for 17 people:
Lakeshore Upper 6 people: 2 bedrooms with queen beds  (2 couples) and 2 single bedrooms with twins = 6 total upper
Lakeshore Lower 7 people: 4 bedrooms – 1 king, 2 queens, 1 bunk room = 7 total lower
Cabin #3: 4 people: 1 queen (2 people) 1 full (1 person) 1 bunk (1 person)
Cabin descriptions and photos available here: Afterglow Resort cabins
We have included the bed linen charge in our price, but towels are not included.  Please bring your own towels